Le Caire mon amour #٥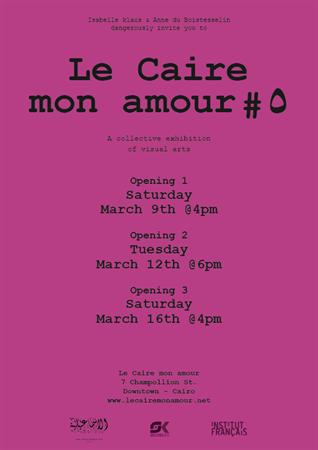 For its fifth edition, " Le Caire mon amour " comes back with an original proposal gathering foreign artists whose experiences of Cairo have strongly inspired their creation and egyptian artists who have lived for a time abroad.
Are egyptian artists influenced by occidental modernity ? Should we consider there is a contemporary occidental art and/or a contemporary oriental art ? What about the state of contemporary art in Cairo ? Does the diversity of nationalities bring a wide range of singular artists and works ?
Artists
Ahmed Nosseir (EGY)
François Perez (AUS/FRA)
Arnaud du Boistesselin (FRA)
Nermine El Ansari (EGY)
Jacques Siron (CHE)
Isabelle Klaus (CHE)
Amanda Kerdahi M. (EGY/USA)
Anne du Boistesselin (FRA)
Louis Henderson (GBR)
Thanks to : Mohammad Shaker, Hisham El Zeini, Saber, Dominique Mauri, Amr El Shorafa, Bashir Wagih, Amira Hanafi, Ala'a Eldin Ibrahim, Maysoon Mahfoudh' and Ayman Hussein.